So, a few days ago Shreya lent me this book 'Wonder' by R.J. Palacio, and I was like  'No man don't you have something else? This looks too childish and all…'.  But she did not listen to me (as usual !) and forced me to read this. And now I am really grateful to her for that because it is truly one of the greatest books that I have read this year💓. Believe me, by the time I finished, I was literally in tears.😢
Then, she told me that I had to do a review on this book and I was again like 'No no no no way I hate doing reviews!' But then she made me promise to at least write something like '5 things I liked about Wonder'.
So here am I ( Don't think that I didn't get the fact that this '5 things…' thingy is kind of a twisted review in another form and that she got her way like always!😒. But actually its kinda nice because it feels like I am doing kind of an assignment for a magazine!😆😊. I know, silly right? Please ignore.)
5 Things I Liked About 'Wonder' :
" My name is August, by the way. I won't describe what I look like. Whatever you are thinking, its probably worse. "
The main character is a ten-year old boy August (Auggie) Pullman with facial abnormalities due to some genetic problem. People tend to get shocked when they see his face for the first time. Auggie is home-schooled through grade four but for middle school his parents decide to send him to a private school in NYC, Beecher Prep. Wonder is the story of his fifth grade year, told partly from Auggie's perspective and partly from the other kids in his life.
So here are the five things:
1. The book is written from the pov of six characters. Each character has more or less done some wrong or has been wronged (sometimes both) by some other person at some point in the story. The best part 😊 is how Palacio reasons out the behaviour of all the characters by explaining their state of mind. The author does NOT justify anyone's decision or actions, just lays out the mental condition or situation each character is going through at that point of time that stimulated such actions or reactions! The nice fact is that the book teaches us to ponder for a second or two before we go on our way to pass judgement on a person. The book explores some fundamental truths about how humans behave. And how they should behave.
2. The characters, ranging from the overprotective parents to the best friends of the Pullman siblings, are 'wonder'fully fleshed out. It is written with just the right amount of pathos and humour making each character both flawed and sympathetic.😍
3. The book tugs at your tearducts more than once as you go through the story. ( A lot more if you are under PMS like me while reading!😳)
4. The writing style is great, with carefully laid out realistic family interactions, lively school scenes and short and crisp chapters. Palacio has written with a clear eyed intelligence that never descends into cynicism.👌
5. The fifth thing that I loved about the book is actually a portion of it. The beauty of the content touches your heart. 💕
"…..the universe was not kind to auggie pullman. what did that little kid do to deserve this sentence? what did the parents do? or olivia?…….the universe would abandon us completely. and the universe doesn't. it takes care of its most fragile creations in ways we can't see. like the parents who adore you blindly. and the big sister who feels guilty for being human over you. and even a pink haired girl who carries your picture in her wallet. maybe its a lottery, but the universe makes it all even out in the end. the universe takes care of all its birds."
I want to end, no scratch that. I want YOU to remember something. Something said by Ian Maclaren which is used in the book.
Be kind, for everyone you meet is fighting a hard battle.
Yes. Also because it won't cost you anything. But you don't know, it may cost the person at the receiving end something huge. Because we can never know what a person is going through in his or her life at that time.
" Shall we make a new rule of life….always try to be a little kinder than is necessary? "
Thank You 🙂
♥♥♥♥♥
---
ABOUT THE BOOK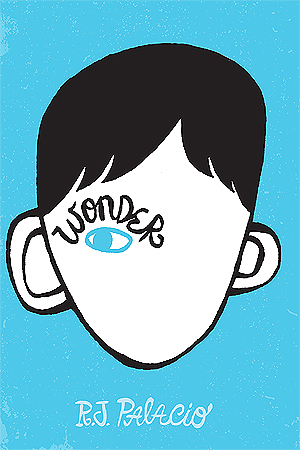 Wonder
Author– R.J. Palacio
Publisher– Knof
Genre– Realistic fiction, Middle grade, Children's book, Contemporary
SYNOPSIS
I won't describe what I look like. Whatever you're thinking, it's probably worse.
August (Auggie) Pullman was born with a facial deformity that prevented him from going to a mainstream school—until now. He's about to start 5th grade at Beecher Prep, and if you've ever been the new kid then you know how hard that can be. The thing is Auggie's just an ordinary kid, with an extraordinary face. But can he convince his new classmates that he's just like them, despite appearances?
R. J. Palacio has written a spare, warm, uplifting story that will have readers laughing one minute and wiping away tears the next. With wonderfully realistic family interactions (flawed, but loving), lively school scenes, and short chapters, Wonder is accessible to readers of all levels.
---