So few days back I watched the trailer of the book 'Wonder' and oh boy i can feel this will remain one of the best movies of this year. I was crying which the trailer ended and the last line 'You cant blend in when you are born to stand out' made cry harder.
If you havent read the book, please go buy and read it. This is one of the best thig you will read this year! You can check out the review of this book here.
QUOTES
"I think there should be a rule that everyone in the world should get a standing ovation at least once in their lives."
Kinder than is necessary. Because it's not enough to be kind. One should be kinder than needed.
WHEN GIVEN THE CHOICE BETWEEN BEING
RIGHT OR BEING KIND, CHOOSE KIND.
It's not enough to be friendly. You have to be a friend.
About The Book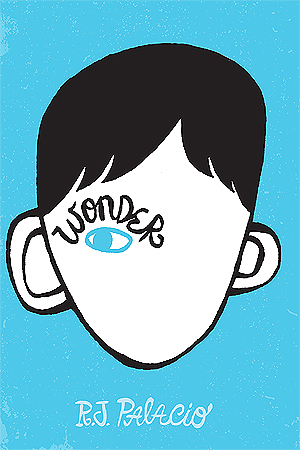 SYNOPSIS
I won't describe what I look like. Whatever you're thinking, it's probably worse.

August (Auggie) Pullman was born with a facial deformity that prevented him from going to a mainstream school—until now. He's about to start 5th grade at Beecher Prep, and if you've ever been the new kid then you know how hard that can be. The thing is Auggie's just an ordinary kid, with an extraordinary face. But can he convince his new classmates that he's just like them, despite appearances?

R. J. Palacio has written a spare, warm, uplifting story that will have readers laughing one minute and wiping away tears the next. With wonderfully realistic family interactions (flawed, but loving), lively school scenes, and short chapters, Wonder is accessible to readers of all levels.
BUY THE BOOK-  Amazon.in, Amazon.com, Book Depository.
TRUST ME YOU WILL LOVE IT!!!!
xoxo,
shreya. ❤